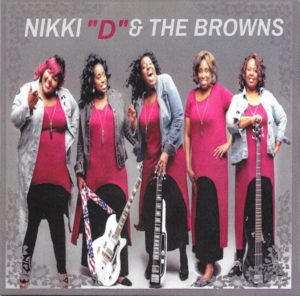 Nikki "D" & the Browns
The Divine Treatment EP
Independent (release date: January 2020)
By Bob Marovich
Outside of the Campbell Brothers, it seems as if sacred steel music has been relegated to historic reissues. But lap steel is audible on The Divine Treatment, a new EP by Nikki "D" & the Browns of Toledo, Ohio.
A member of Soul City House of God International in Toledo, which split from the Church of the Living God, Jewell Dominion—the denominational home of sacred steel—Nicole "Nikki" Brown has been playing steel guitar since age nine. She, her three sisters, and a niece, even formed a steel guitar band called the Sisters of Thunder.
When appearing as a gospel quartet, the sisters work under Nikki "D" & the Browns, but as Nikki "D" & the Sisters of Thunder, they are full-out sacred steel. That means The Divine Treatment is female gospel quartet fare, a mix of traditional vocals and grateful Christian lyrics accompanied by a thumping contemporary rhythm section.
The ladies harmonize on Dorsey's "Precious Lord" while guest artist (and fellow Toledo resident) Tiffanie Campbell offers up an incrementally fervent personal prayer as the song's vamp. "Whatever You Need" is a mid-tempo bouncer. "Brought Me," as in "from a mighty long way," is where the ladies showcase their harmonies.
Formed by their parents in 1973, the Brown Family Singers have recorded several projects, including God is so Wonderful (2007) and a Christmas single, "O Come All Ye Faithful," late last year. Nikki and Gloria Brown participated on "Touch Me Again" in 2018 for Bishop Lawrence Hancock's album, I'm Free.
Back to the steel guitar. With Nikki's delicious sacred steel solo in the midst of it, "Amazing Grace" is one of the two most resplendent tracks on the EP. The other is the penultimate cut, the nearly-six-minute "Power," which expresses its theme in lyric as well as tempo. Bemoaning a world full of destruction, violence, and disease (including "high blood pressure and sugar diabetes"), the quartet beseeches God to send down the power to fix things. It sounds like the quartet's drive selection, the "B" song they use to close out their appearances on multi-artist programs.
Nikki notes that the steel guitar is more prominent on their Sisters of Thunder CD project. Still, their quartet EP is a solid effort.
Four of Five Stars
Picks: "Power," "Amazing Grace"