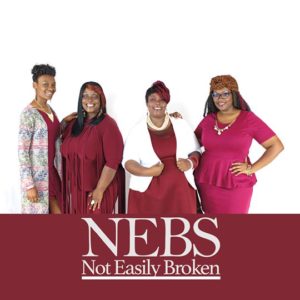 "So Good"
Not Easily Broken (NEBS)
https://www.facebook.com/NEBSisters/
By Bob Marovich
The Not Easily Broken Sisters (NEBS) is a cross between a female quartet and a gospel group. On "So Good," from their self-titled EP, the sisters are effusive about God's goodness to them.
God removed their chains, gave them grace, eliminated cloudy days, and put a smile on their face. Even when they lost their faith, God directed them to get on their knees and proceeded to provide his amazing grace.
By the vamp, the four offer a litany of other ways God has demonstrated his goodness: as a doctor, lawyer, brother, sister. The hip-slapping tempo, propelled by a diffuse electric keyboard/synth, is appropriate to the subject matter, though the track would have been even better had the musical background been a little less electronic.
Based in Clarksville, Tennessee, NEBS is Carissa, Lawanda, Tamissa, and Jasmine Wiggins, their group name a reference to an undisclosed devastating life experience and based on 2 Corinthians 4:9. Prior to forming NEBS, the women sang with their father in a group called Faithful.