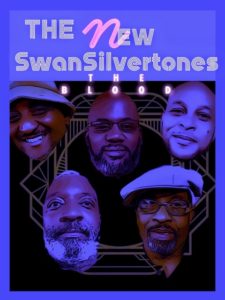 "The Blood"
Rev. R. L. Bush and the New Swan Silvertones
From the album Live and UpClose
https://store.cdbaby.com/cd/revrlbtnss
By Bob Marovich
During more than 80 years of singing, the Swan Silvertones quartet has remained relevant by shifting its style to keep up with the times. From rhythmic jubilee singing to church-wrecking power to sweet harmonizing to contemporary quartet, the Swans have done it all.
On "The Blood," the New Swan Silvertones, featuring the Reverend R. L. Bush, keep it old school. With nothing but a drum beat to sing to and the bass singer imitating a stand-up bass  in his riffing, the group offers plenty of shouting straight outta the solar plexus. In addition to harmonizing, members of the group, like congregants, interject their gratitude to Jesus "for dying on the cross, so my soul won't be lost."
In addition to Reverend Bush, the New Swan Silvertones consists of the Reverends Scheron Womack and Ray Morris, Allen Whitlow, Torrie Smith, and Ken Jones.