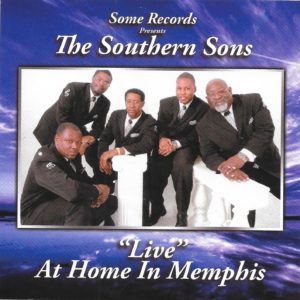 The Southern Sons of Memphis
"Live" At Home in Memphis
SOME Records (2016)
www.sonsofmemphismusic.com
By Bob Marovich
Although released in 2016, the Southern Sons of Memphis's "Live" At Home in Memphis is, like most gospel quartet recordings without undue amounts of synthesizer, evergreen.
Bob Holloway, the Southern Sons' longstanding member, is lead vocalist on almost all of the tracks on this album, recorded at Boston Baptist Church in Memphis. His vocal delivery alternates between flatfooted crooning, pleading, shouting and, when the spirit catches him, a high-pitched shriek that emerges from his shout. Like a minister at the pulpit, Holloway interpolates testimonies into the vamps. By the end of the up-tempo "Prayer Will," he is almost overcome.
But he's not the only one: the spirit is so high by the end of the Sons' arrangement of "How I Got Over" that a praise break is itching to occur. Similarly, the temperature rises so high on the hand-clapper "He's Been Good to Me" that a brief praise break does happen (it's partially captured on the companion DVD).
The quartet supports Holloway's vigorous vocals with baritone-heavy harmonies that reverse the trend toward soaring tenor harmonies. The result is a bolder, more robust sound that places the Southern Sons of Memphis in the top tier of male gospel quartets today.
The wooden church theology of thanksgiving, hope, and the power of prayer that is the soul and substance of the lyrics is as timeless as the traditional arrangements. The Sons deliver no-nonsense messages while covering classics like James Cleveland's "Something Got Hold of Me" as well as reprising their own "Lord, We Need You." Regardless of whether the lyrics are fresh or constructed from church aphorisms, listeners get a hearty helping of simple wisdom to deal with the challenges of life.
The album, produced by the incomparable Ray Braswell Jr., has a companion DVD that is essential for absorbing the group's full impact on its audience.
Five of Five Stars
Picks: "He's Been Good to Me," "Something Got Hold of Me"