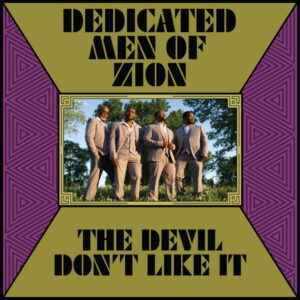 Dedicated Men of Zion
The Devil Don't Like It
https://fatpossum.com/collections/bible-tire-recording-co
(release date: March 3, 2022)
By Robert M. Marovich
On The Devil Don't Like It, their follow-up to 2020's Can't Turn Me Around, the Dedicated Men of Zion quartet breathes new life into a handful of gospel classics by fitting them with arrangements that sound straight out of the soulful early 1970s.
It's been a heady time for the Eastern North Carolina quartet. In addition to Can't Turn Me Around, their second album and debut for Bruce Watson's Bible & Tire imprint, the group was featured on the critically-acclaimed 2021 compilation Sacred Soul of North Carolina. They appeared on NPR's Tiny Desk Concert.
Once again, they showcase their earthiness, beginning with the first cut, "Lord Hold My Hand," which they wrap in Famous Flames freneticism. On the title track, the devil doesn't make an appearance until after the salvation moment, which is the true focus. The funky "A Change is Gonna Come," is not the Sam Cooke anthem but a sung affirmation of the title backed by wah-wah guitar licks and a hypnotic arrangement reminiscent of San Francisco jam bands. "I Know I've Been Changed" is cooled to a slow burn from the congregational singalong version popularized by the Reverend C. J. Johnson and LaShun Pace.
The gospel bluesy "I'm Going Home" is about overcoming trials by pressing on through faith and prayer, with Job starring as the unparalleled example of holy endurance. "I'm a Soldier in God's Army" is not the high-energy version sung in Pentecostal churches but a minor-keyed dirge in which the listener feels the full-in commitment of the former sinner who recognizes that being steadfast will not be easy, but it will be right.
As on the previous album, The Devil Don't Like It has more than the usual number of drive-tempo songs, represented here by Sister Rosetta Tharpe's "Up Above My Head," "One River to Cross" (aka "Jordan River"), and "God's Got His Eyes on You." Although the title track and "Lord Hold My Hand" are the singles, "God's Got His Eyes on You" is the album's finest track. The group's lead vocals and harmonies are at their tightest, and the musicians lift listeners from rest to rapture.
The solid rhythm section is anchored by Mark Edgar Stuart's sonorous bass, Al Gamble's soulful organ, and George Sluppick's steady drumming. Will Sexton and GRAMMY winner Matt Ross-Spang add the guitars. Thank the Lord, not a synthesizer in sight. Bruce Watson's production is excellent overall, though on the spiritual "Rock My Soul," the harmonies feel buried in the background and clouded by echo.
There's so much great gospel music here, even the devil will like it.
Five of Five Stars
Pick: "God's Got His Eyes on You"