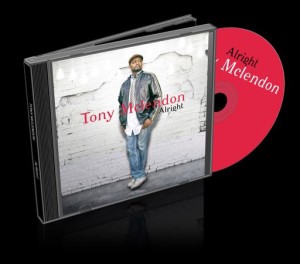 "Alright"
Tony Mclendon
From the forthcoming The Music Church CD I'm a Winner
Available on iTunes
Taking his cue from a snippet of the vamp from Kool and the Gang's "Ladies Night," Tony Mclendon, along with a party of equally enthusiastic supporters and a relentless disco beat, offer up spiritual reassurance that "I got a feeling everything's gonna be all right."
No heavy religious content, no deep theosophy, just a feel good reminder that "He never let you down" so hang loose and don't give yourself an ulcer worrying about your problems.
McLendon is pursuing the family business. His parents, Goldwire and the late Ruth McLendon, were members of Philly's sensational Savettes gospel choir. Goldwire's achievement as runner up on the third season of BET Sunday Best earned him a record deal to cut his first solo album. As a child, Tony played trombone and piano, and by age ten was pursuing the bass guitar. At twelve, he was singing in and accompanying the family group.
Tony has recorded with Melba Moore and the late Donna Summer. He is now in the music department of World Changers Church in New York.