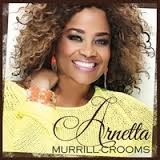 Arnetta Murrill-Crooms
On The Beat Entertainment (2013)
Arnetta Murrill-Crooms hails from the talented Murrill Family of North Carolina.  Alumni of Donald Lawrence's Tri-City Singers, the Murrill siblings released their own album, the Lawrence-produced Family Prayer, in 2008.  It featured Arnetta leading the single, "There's a Healing."  The album garnered Stellar and Grammy nominations.
Arnetta, who recently received the Best Female Gospel Artist honor at the 2013 Queen City Awards, has released her debut solo CD.
In a genre known for distinctive voices, Arnetta's voice stands out for its musky texture and breathy staccato lyricism that borrows from jazz, gospel, and R&B.  At the same time, she pounces on a song's emotional apex with gravelly gospel shouts.
The finest moments on the self-titled album come when Arnetta wraps her voice around what can be described as love songs to the Most High.  "You" is a bit of pop-jazz that has as much in common with contemporary gospel as ballads by such classic cabaret thrushes as Dakota Staton and Nancy Wilson.  Similarly, "My Desire," on which Arnetta croons "I never desired anyone like I desire you, Jesus," is more sensual a love ballad than any sung from woman to man.
"Yes Jesus Died" is a contemporary gospel with a churchy backbone, while the encouraging "Try It Again," the album's initial single, has a bracing urban AC vibe and finds the singer at her vocal peak.  Fans of Arnetta's prior work with the Tri-City Singers will appreciate her reprise of "I Am God," a song she led with the award-winning ensemble.
Family members support their sis on the project.  "In the House" features a duet with Roger, who really sells the song.  Carnell wrote and plays keys and drums on "Yes Jesus Died."
Arnetta Murrill-Crooms would have been even better had it had a few more than eight selections, but what it has is well-crafted and authentically delivered.
Picks: "You," "My Desire."