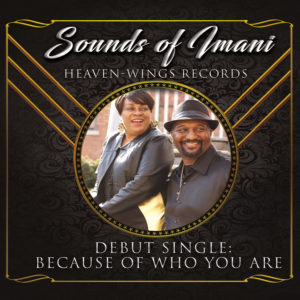 "Because of Who You Are"
Sounds of Imani
Heaven-Wings Records
(release date: October 21, 2016)
www.soundsofimani.com
Recording as the Sounds of Imani, Gerald and Carol Ervin have released their debut single, "Because of Who You Are," a tuneful praiser that features the husband-wife team's fine solo and duet vocalizing.
Carol's soprano is so reminiscent of Stylistics lead singer Russell Thompkins Jr. that this song sounds decidedly Philly, although the Ervins are from Detroit.
The single also has an early Hawkins Family feel in its soft R&B tones, light tempo, and breezy ensemble harmonies. This all makes sense when one considers that Gerald was a vocalist with the famous soul group, the Detroit Emeralds, and the single's producer, Michael J. Powell, counts quiet storm artist Anita Baker in his credits. Good cool down gospel.