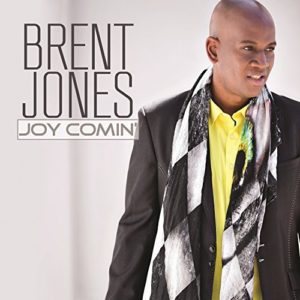 Brent Jones
Joy Comin'
EchoPark JDI Entertainment
(release date: August 12, 2014)
https://www.facebook.com/JDIRecords/

By Bob Marovich
With his 2014 album Joy Comin', singer-songwriter Brent Jones took one giant leap from his days as leader of the gospel hip hop group T.P. Mobb. This album represented a new sound for Jones's listeners, but not for him.
"It was my Sunday morning sounds and some knew me for my urban sounds," he told Waco Tribune reporter Carl Hoover last month.
Indeed, with the accomplished Orange County [California] Gospel Choir on board, Jones's Joy Comin' is a choral workout. The title track (and opening song) establishes the album's theme by referencing the well-known lines from Psalm 30:5: "Weeping may endure for a night, but joy cometh in the morning." From the buoyant music, one can assume joy has already cometh or is highly anticipated.
More dramatic than the title track and featuring special section work by the choir, "I Promise" supports the theme by encouraging the listener to remain steadfast in faith and just "hang in there." In its retelling of the Easter story, the soulfully swaggering single "He Rose" also employs the sorrow-to-joy motif.
"Holy Spirit" is one of the album's most musically interesting cuts. Driven by Michael Bereal's inspired piano work, the Orange County Gospel Choir showcases its workshop-style skills, including a thunderous conclusion. "Psalm 149" also finds the five-star choir squarely in the spotlight, flexing its harmonic muscle without a lead singer.
Another single, "I Can Dance," further buoys the album's focus on joy. The album even has a touch of traditional in "Is Your All on the Altar." As if to demonstrate the lasting power of the classic hymn, the song ends in a praise break.
Notwithstanding the use of a vocoder when unnecessary, Joy Comin' is a strong preview to Brent Jones' coming recorded collaboration with the Waco Community Choir.
Four of Five Stars
Picks: "He Rose," "Is Your All on the Altar?"