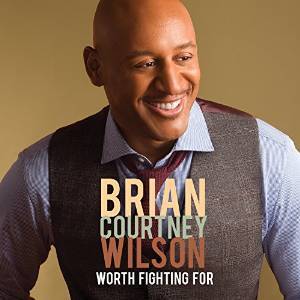 Brian Courtney Wilson
Worth Fighting For
Motown Gospel (release date: January 6, 2015)
www.motowngospel.com
By Bob Marovich
Some singers are songwriters and some songwriters are singers.
Brian Courtney Wilson is a songwriter—more appropriately a hymnist—who also sings.
But make no mistake: the Stellar Award winning and Dove Award nominated Wilson is also a strong singer. One among a generation of male gospel crooners, Wilson has released a stack of quality selections ever since his breakout hit, "All I Need." It is simply that his songwriting is doubly inspired.
Produced by Motown Gospel VP and A&R man, Aaron Lindsey, and recorded at St. John's United Methodist Church in Houston, Texas, on July 25 of this year, Worth Fighting For is Wilson's first live album. It is packed with quality songs, most of which Wilson co-wrote with Lindsey and others, and features Wilson's warm yet bold baritone front and center.
The two opening songs, which are fairly standard uptempo praisers to get everyone invigorated and ready for service, do not sound at all like Wilson repertory. The third selection—the single and title track—and the rest of the album cuts do. "Worth Fighting For" argues that in a time of much negativity, life is still worth fighting for because there is still plenty of  good to anticipate that "eyes have not seen" and "ears have not heard." From the sounds of the congregation, this song was clearly an audience pleaser.
An equally delightful ballad is another song of encouragement, "It Will Be Alright." Two exquisite ballads that even surpass the title track in depth of emotion are "Just Say Yes" and the hymn, "Our God is Good," the latter with an eminently singable chorus.  Wilson does his best vocalizing on the acoustic "Nothing Occurs to God," a clever turn on the "it's already done" trope.
The background vocalists, directed by Krystle Harper-McConnico, are a superb choir for Wilson's leads.
At one point on the album, Wilson breaks into the "Yes Lord" chant. It was a interdenominational moment, if ever there was one: Baptist-bred Wilson singing a COGIC chant in a United Methodist church.  We've come a long way, baby, and that's a good thing.
The Deluxe Edition includes a couple of Wilson's past hits sung live with minimal instrumentation and "Greatest Love," a charming duet with Tina Campbell of Mary Mary, which has an '80s Motown bounce to it and can easily become a popular single. But the gospel ballads alone make Worth Fighting For JGM's first five-star album of 2015.
Five of Five Stars
Picks: "Worth Fighting For," "Just Say Yes," "Our God Is Good."