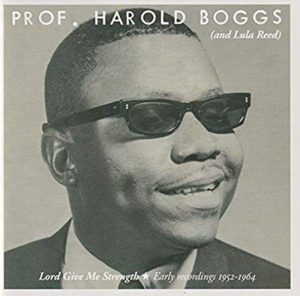 Prof. Harold Boggs (and Lula Reed)
Lord Give Me Strength: Early Recordings 1952-1964
Gospel Friend Records (release date: September 21, 2018)
www.gospelfriend.com
By Bob Marovich
Perhaps one reason Professor Harold Boggs is not as well remembered, or as appreciated, as his golden era contemporaries is his penchant for copying their sound. Seemingly bereft of a distinctive style of his own, Boggs, a blind singer, emulated the prevailing sound of gospel music.
In other words, listening to Boggs on Per Notini's superb compilation of the blind singer's initial recordings is a gospel music history lesson in audio. You hear the influence of the expansive-voiced Brother Joe May on Boggs' earliest singles, the creep of rock 'n' roll rhythm on some of the late 1950s selections, and the effervescence of Alex Bradford (minus the stave-topping high notes) on the latter tracks. Boggs even takes a page out of the Edna Gallmon Cooke playbook by narrating on some of his recordings.
Notwithstanding the follow-the-leader strategy, one certainly not novel to any music genre, there are some stunning sides on this compilation, which mines Boggs' work on the King and Nashboro labels, and one track from Song Bird Records (the second single released on the Peacock subsidiary).
For starters, the 1953 version of "Inside the Beautiful Gate" is a hard-charging up-tempo piece, while 1960's "Heavenly Power" finds Boggs and his singers engaged in an intense session of call-and response. Boggs and the Boggs Specials certainly had a command of rhythm no doubt as compelling to churchgoers as to club denizens.  It's fascinating: although Syd Nathan of King Records allegedly wanted the Swan Silvertones to sing jubilee harmonies in the late 1940s, by the early 1950s he was comfortable releasing pulsating gospel sides by the likes of Boggs and organist-singer J. T. Highbaugh.
Meanwhile, R&B chanteuse Lula Reed, like Boggs a resident of Port Clinton, Ohio (the two worked together in the early days), recorded some gospel sides for King Records while Boggs was contracted to the label.  The two 1952 cuts featured here, backed by the smooth-singing Harmonaires quartet and a combo led by Reed's soon-to-be husband Sonny Thompson, demonstrate just how interdependent gospel and R&B could be.
Initially published by the Journal of Gospel Music, Opal Louis Nations's fascinating history of Boggs serves as liner notes for Lord Give Me Strength. The package also includes photos of the singer, label shots of some of his singles, and production details on the disc's 28 selections, which span more than a decade.
In his essay, Nations highlights several interesting musical exchanges between Boggs and secular artists. For example, Boggs's "When It Hits You" is a gospelization of Sy Oliver's "Yes Indeed," recorded by Ray Charles in 1958 and itself possibly inspired by the Pilgrim Travelers' 1957 Andex recording with Lou Rawls on lead. Boggs' 1963 "That's Where It's At" on Song Bird was an R&B hit that same year for the Sims Twins on Sam Cooke and J. W. Alexander's SAR label. Later, Eric Clapton recorded "Lord, Give Me Strength" as the b-side of "I Shot the Sheriff." For as little as has been written about Boggs, and given his chameleon-like ability to channel the work of his contemporaries, he made an important impact on American popular music.
So if, as in the opening track of Lord Give Me Strength, "The Half Has Never Been Told" about Professor Harold Boggs, this new project makes an important dent.
Five of Five Stars
Picks: "Inside the Beautiful Gate" (1953 version), "Heavenly Power"