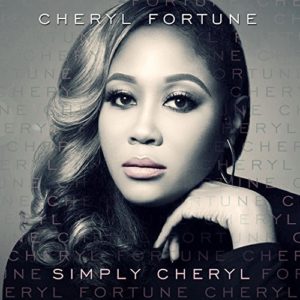 Cheryl Fortune
Simply Cheryl
LuDawn Music / Tyscot Records
(release date: October 13, 2017)
www.tyscot.com
By Bob Marovich
On a selection from her album Simply Cheryl, gospel singer-songwriter Cheryl Fortune sings: "You don't know the half of it, and I just can't tell it all."
Cheryl, a background vocalist for Kirk Franklin and the wife of gospel artist James Fortune until their marriage dissolved over his domestic abuse, may not tell it all but we get the drift. The album's coded references to her recent personal history are exactly what we would have expected from this, her debut solo album.  Anything else would have been disingenuous (James is not even mentioned in the liner notes).
But if the message remains the same throughout the album, the music doesn't. The singer tees up the first half with a brief introductory gush over her love of the music of the 1980s and 1990s and how she wanted to bring that groove into her album. And she does: the polyrhythmic funk of "4 a Night" encircles a lyric of encouragement and hope.  "Don't Apologize" is the latest addition to the "you are beautiful" canon, although Cheryl supplements the typical I-don't-look-like-what-I've-been-through declaration with an I-don't-know-how-she-does-it amazement.
"Fighters," one of the best gospel singles of the year, is a fellow traveler's anthem of hope for the hopeless. Its Kirk-style melody and bite-size lyrics, high school marching band beat, and children's choir fuel a message of empowerment to abuse survivors.  Cheryl adds her #metoo at the tail end. Indeed, "Fighters" could well have been the title of this album.
The album gets darker and more dramatic after the second spoken interlude. This half also provides Cheryl with greater space for extended vocal expression. If "Lost in the Crowd" opens the door to a more confessional mood, "Truth Is" walks through it. Being on stage was an excellent metaphor for her reality, Cheryl sings, because the stage is about make believe.  It gave her the forum to make it appear as if everything in her life was okay when it was not.
"Give it Up" finds Cheryl at her emotional apex, soulfully delivering her new philosophy of life with unflinching honesty. While coming to the same conclusion as James Cleveland and the Cleveland Singers' 1964 ballad "That Will Be Good Enough for Me," Cheryl reverses the phrases around the conjunctions. Where Cleveland has "never been to Paris," Cheryl has traveled to the top of mountains. She has enjoyed the trappings of the wealth Cleveland can only dream about (in the song, anyway). Nevertheless, both come to realize that money and fame have no value compared to the love of Jesus.
Simply Cheryl is a notable debut and demonstrates the power of sacred music to make the wounded whole.
Four of Five Stars
Picks: "Fighters," "Give It Up."