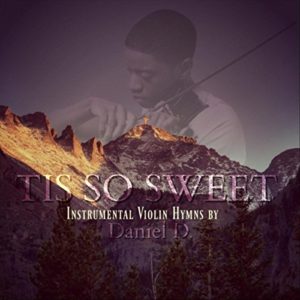 Daniel D.
Tis So Sweet: Instrumental Violin Hymns
DD Productions (release date: December 3, 2017)
www.danieldmusic.com
By Bob Marovich
Instrumental sacred music in the African American tradition goes back decades. In fact, two of the first six sides cut by Arizona Dranes, a musician for the Church of God in Christ and among the earliest African American gospel artists to record, were sacred instrumentals ("Crucifixion" and "Sweet Heaven Is My Home").
In the contemporary gospel era, piano and organ soloists have been joined by saxophonists, trumpet players, and violinists, among others. Counted among the professional sacred violinists are Kersten Stevens, Brooke "Viosocalist" Alford, and Daniel D.
On Tis So Sweet: Instrumental Violin Hymns, Daniel D. (Daniel Davis, "The Contemporary Violinist") plies his musical trade in the service of a dozen church hymns, those evergreen chestnuts that feel like they've been around since time began, when in actuality most hail from the nineteenth century. While the arrangements here have a lot in common with smooth jazz, albeit with a soulful twist, Daniel's percussive playing emulates the gusto of solo or congregational gospel singing. He bows with confidence, improvising on the melodies like a gospel singer (especially on "What a Friend We Have in Jesus") without obscuring the hymns' intrinsic beauty.
When Daniel plays "Leaning on the Everlasting Arm," aka "What a Fellowship," it sounds like the camp meeting singalong it was born to be. He gets downright electronic on "Just As I Am," and on "Blessed Assurance," he briefly evokes the electric violin-fueled fusion of Jean-Luc Ponty. Keyboards aside, though, it would be great to hear Daniel D. accompanied by an orchestra. Nevertheless, this is a restful album, designed to inspire relaxation and remembrance.
It is said that hymns are making a comeback. Tis So Sweet suggests they never left.
Three of Five Stars
Pick: "Blessed Assurance"