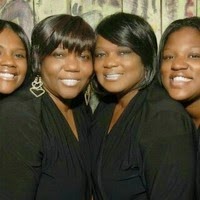 Disciples of Christ
D.O.C. Productions/B.A.D. Entertainment
From Houston, Texas, the Disciples of Christ is a
family female traditional gospel quartet group
with plenty of contemporary flair.
Evocative of Lisa Brown & the Knowles Singers and Vetrea Stack Ruffin & the Ruffin Family, the Disciples are
two pairs of mothers and daughters: Arlene Jackson Bell, Shirley Benson, Shaniece Cleveland, and Candice Jackson.
They won
the Texas Gospel Excellence Award Female Group of the Year four years running, from 2010 to 2013, and are heading to Switzerland to appear in a concert this August.
Throughout their new CD, Renewed Praise, the group knows and applies a bushel basket of time-honored gospel couplets. The songs muse on life's trials and tribulations, gratitude for blessings received, and the delight of being saved. "Ain't no party like a Holy Ghost party / 'Cause a Holy Ghost party don't stop," they chant on the sanctified "Holy Ghost," the album's high point.
The group also weaves the traditional quartet beat into their quick tempo songs. "Make A Way" is a classic quartet mover, as is "Get Up (Praise the Lord)," the latter rife with shouts and squalls like the Davis Sisters reborn. During "No One Else," the Disciples of Christ riffs on the lyrics of Calvin White's "As Long As I Got Jesus."
Andre Tate of the Williams Brothers joins the ladies on "Yes," a contemporary gospel about saying yes to daily discipleship as well as to God's will, even when the will does not make human sense. The performance gets the point across, even if it runs a tad too long.
Renewed Praise
contains the right amount of contemporary and traditional gospel to satisfy both camps.
Picks: "Holy Ghost," "Get Up (Praise the Lord)"