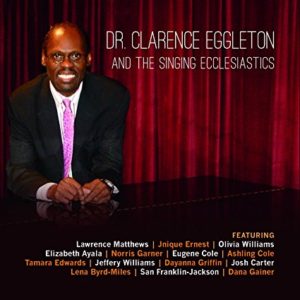 Dr. Clarence Eggleton and the Singing Ecclesiastics
(self-titled)
Clareton Music (2015)
Available from Amazon.com
By Bob Marovich
Dr. Clarence Eggleton, a GRAMMY-nominated songwriter who wrote for artists from the Reverend James Cleveland to Sara Jordan Powell, convened several talented vocalists to breathe life into a dozen compositions from his catalog of more than 500.
The result is the self-titled project Dr. Clarence Eggleton and the Singing Ecclesiastics.
Accompanied by a crew of very competent musicians and a seven-member mixed vocal group, one soloist after another steps to the microphone to put his or her own imprint on Eggleton's creations. Many vocal colors—from sweet to spicy–are on display. They invigorate the album's mostly conventional devotionals, the praise sometimes vertical, sometimes horizontal.
The album's finest moment is when Elizabeth Ayala and gospel veteran Norris Garner duet on the fiery "Give Me Jesus." Ayala squalls and Garner shouts on this church rouser about the constancy of Jesus. During the vamp, the two enter into a vibrant call and response with the backing group.
"Breakthrough" is another selection written and performed in the traditional mode. Hard gospel singer Eugene Cole vouchsafes that the light of life may be dim but joy cometh in the morning. "Just Let Him Breathe on Me" and "Praise the Lord" are lush senior choir fare, with Dayanna Griffin's solo particularly lovely on the former. The mighty go-to guest soloist San Franklin-Jackson doesn't disappoint on "We Exalt Your Name O Lord." Olivia Williams offers a double dose of power on "Worship You with Praise."
Sadly, the architect of this project, nicknamed "Mr. Gospel," is no longer around to read these words. Dr. Clarence Eggleton passed away in May 2015. Nevertheless, his songs will live on in hymnbooks, on this CD, and in the hearts of those who continue to sing them every Sunday.
Three of Five Stars
Picks: "Give Me Jesus," "Just Let Him Breathe on Me"