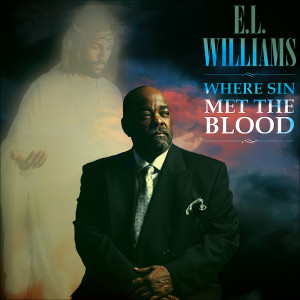 E. L. Williams
Where Sin Met the Blood
Tate Music Group (2015)
www.tatemusicgroup.com
By Bob Marovich
There was a time when bass singers were compulsory for any self-respecting quartet, but today they are as rare as hen's teeth, save for classical music and opera, where the basso profundo remains the voice of maturity and wisdom, and retro doo-wop groups.
Gospel quartet was once notably gifted with such legendary bottom-supporters as George McCurn (Pilgrim Travelers), Jimmy Jones (Harmonizing Four), Dickie Freeman (Fairfield Four, Skylarks), and Thomas Spann (Brooklyn All Stars), the latter being among the last of his breed still on the gospel highway. That is why it comes as something of a surprise to hear E. L. Williams of Philadelphia, who is every bit as resonant as his gospel quartet forebears.
Williams's debut EP, Where Sin Met the Blood, is an exposition of earth-shaking bass on pop and semi-classical sacred songs. Williams croons with a smoothness somewhere between Ed Ames, Nat Cole, and Roger Whittaker.  Williams is no Johnny-come-lately, having performed with acappella group Deep Penetration and, later, soul vocal group Page Five.  After moving back to sacred music, Williams was dubbed the "Barry White of Gospel Music" by WHAT announcer Linda Timmons.
Each of the six song ballads on the EP are written or co-written by Mark Hawkins, who employs melodies from Russian composer Vladimir Vorobyov for two of the selections. Vorobyov's plaintive soul imbues "Only God Can, Only God Will" and "My Love, My Lord" with something you don't hear every day—worship songs in a minor key—but they work because of Williams's thoughtful interpretation.
In fact, linking Williams's robust voice with anything other than orchestral-like flourishes would not make sense. Such flourishes can be heard most prominently on "Magnify Thy Name" and the big number closer, "Son of God, Son of Man."
Time will tell, but E. L. Williams may become to Protestant sacred song what the late Irish tenor Frank Patterson was to Catholic hymns—a concert artist. Where Sin Met the Blood is a good introduction to the basso from Philadelphia, and I hope his next album features traditional hymns and gospels with piano and strings for accompaniment. That would be glorious.
Three of Five Stars
Pick: "Magnify Thy Name," "Son of God, Son of Man."