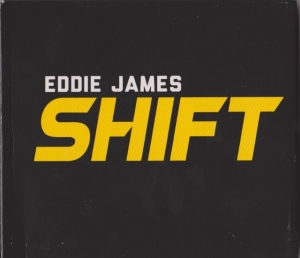 Eddie James
Shift
Fresh Wine Records (2012)
www.ejworship.org
By Bob Marovich
Back in the day, recorded black sacred music was restricted by its medium. The brittle 78 rpm and its cooler cousin, the 45 rpm record, gave singers and musicians about four minutes per side to get their message across. The LP expanded things a little, offering as much as an hour of music. Today, a two-disc CD set enables artists to provide nearly three hours of almost uninterrupted listening.
The latter is what singer-songwriter and minister Eddie James has employed for Shift. This 2-CD pocket-sized worship service is produced in the style of a Shekinah Glory Ministry or Israel Houghton project, artists whose bold, unapologetic P&W style may have inspired James and his music ministry.
"There's a new breed of Christian," James and his team sing on the title track, defining the shift as "a changing of the guards." While the "shift" the group sings about is a more aggressive attitude against sin, it is also emblematic of the high-octane P&W music sweeping the country, or what I unscientifically call the "Lakewood Sound," in reference to the Texas megachurch that helped popularize the style. It mixes jazz, gospel, R&B, electric rock, acoustic rock, prog rock, CCM, and pop into a multicultural mélange designed to fill the biggest megachurch. I hear everything from John P. Kee to Chris Tomlin to Rance Allen in Eddie James's arrangements.
Thematically, Shift combines vertical praise with new-age pleas for the Holy Ghost to rain down fire. "Breathe On Me," featuring Bryn Waddell, is a hypnotic call for spirit possession, and "Holy Spirit Come" is a tender plea for the same, made all the sweeter by Jayna Cullens' vocal cameo. "Joy" and "I Love You" are passionately sung love ballads to the Most High. "You Reign," featuring Nick Franklin and Alicia Evans, is most evocative of the Lakewood Sound with its acoustic underlay.
The album's highlight is "That Same Spirit," a hard-driving call-and-response rouser akin to a '90s John P. Kee composition. Its bluesy coda evolves into a praise break. This song, perhaps more than any other on the set, reminds the listener that James entered the gospel music field with the Phoenix Mass Choir.
Where gospel songs start slow, build to an emotional apex, and end with a cool down, Shift is just the opposite.  Like a racehorse, the album charges out of the gate with high octane praise, slows in the middle with meditative musicality, and gallops on the finish line with rock and roll energy.
The musicians are tight and focused and the choir is strong and committed. Like the SGM projects or a symphony, Shift is best listened to as one continuous work, as opposed to individual songs.
P&W enthusiasts will lap this album up.  And for those who want to experience Shift live, Eddie James has a series of Shift Conferences lined up for the new year. Visit www.ejministries.org for more information.
Four of Five Stars
Pick: "That Same Spirit"