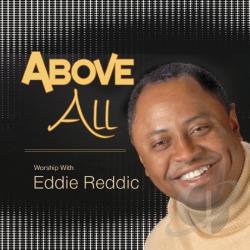 Eddie Reddic
Above All
Reddic Records (2014)
Available at CD Universe
By Bob Marovich
Above All, the third album from Houston, Texas, native Eddie Reddic, ties traditional lyrics to contemporary sounds and resourceful arrangements.
For example, Reddic gives the church classic "I'm a Soldier" a deep, funky treatment, while "Lead Me to the Rock" flows with a modern flair. Another congregational favorite, "What He's Done For Me," puts a heightened praise break-style tempo to a quartet sensibility. All eight of the songs on the album contain flavors of jazz, R&B, and contemporary gospel.
What Eddie Reddic demonstrates above all on Above All is his dexterity as a multi-instrumentalist. In addition to arranging, writing, and singing on the album, Reddic at one time or another contributes electric and acoustic guitar, bass, keyboards, and drum programming. His voice is multi-tracked on "God Is Real" and "Lead Me to the Rock." No surprise here: Reddic is adroit at the mixer and produced the album.
Three of Five Stars
Pick: "What He's Done For Me"