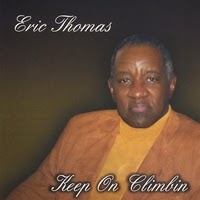 Eric Thomas
Keep On Climbin'
by Chicago singer Eric Thomas could easily be subtitled "With the Sons of Chicago Gospel Legends."
That's because Richard Gibbs (Inez Andrews's son), Bryant Jones (Rev. Billy Jones and Jeanette Robinson Jones's son), and Joey Woolfalk (Johnny Woolfalk's son) are among the album's musicians. And to top things off, the legendary Gene Barge (Checker Records) produced the album and plays sax on one track.
Eric Thomas can call such leading lights together because he is no stranger to Chicago music. He is an alumnus of the Ebenezer Baptist Church Children's Choir, Rev. Jesse Jackson's Operation PUSH Choir, and for a time worked with the soul vocal group the Independents.
The first three cuts are the album's finest. The title track is a brisk and soulful up-tempo song written by Thomas about the power of perseverance. Thomas possesses a rich and experienced baritone, but he can also leap into falsetto at will. Jones accompanies him on acoustic piano for "I Trust in God"—a medley of "Heavenly Father Watches Over Me," "His Eye is on the Sparrow," and Malotte's "The Lord's Prayer." "Wait on the Lord" is an infectious hand-clapper that blends the traditional and contemporary seamlessly.
From there, the mix of songs is clearly designed to be a recital to showcase Thomas's vocal versatility. Rolf Lovland's Secret Garden smash "You Raise Me Up" features a Celtic-flavored violin solo by Lee England. Thomas does "Go the Distance" from Disney's Hercules, "O Come All Ye Faithful," and Schubert's "Ave Maria" (here is where Barge delivers a sax solo).
While Thomas does an admirable job on these songs, they in no way match the magic of the first three selections, when the singer and the musicians offer electrifying renditions of good gospel produced with aplomb by Barge, who has produced more than his share of gospel over the decades. The group should reconvene and do an album of traditional gospel classics.
Pick:
"Keep On Climbin'," "Wait on the Lord."