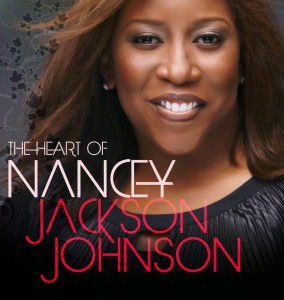 Nancey Jackson Johnson
The Heart of Nancey Jackson Johnson
Camdon Music 2014
www.CamdonMusic.com
By Bob Marovich
I have enjoyed listening to Nancey Jackson Johnson solo on several projects over the past few years, beginning with "Lead Me to the Rock," from Rev. Stef & Jubilation's 2006 The Launch Out Project.   Nancey's powerfully expressive voice adds luster to just about any song.
Naturally, therefore, I was quite eager to hear her debut solo CD, The Heart of Nancey Jackson Johnson, released on Donnie McClurkin's Camdon Music imprint. The album, released last month, contains songs with worship lyrics set to contemporary gospel with shades of blues, jazz, and soul. The selections range from the Jamaican rhythmic strut of "God's Word" and the quiescent "Gift of Praise" to the more conventional R&P arrangements of "You Are High" and "Garment of Praise."
One song on the album, "A Little Longer," tops all of the rest put together. This composition, which Nancey delivers with appropriate dramatic passion, is a conversation between the singer and God. The singer is over-eager to do kinetic things (sing, dance, worship) to thank God for His blessings. When God answers, it is with a mother's gentle wisdom: please, don't do anything, just stay with me a while. The parent-child bond is palpable. I wish more modern gospel songs had such compelling insight.
Donnie McClurkin contributed "I Matter," a statement of affirmation ideal for a youth choir. The single, "I'm Free," is Nancey at her most powerful vocally, though she makes the song work, not the other way around.
The Heart of Nancey Jackson Johnson is an enjoyable listen, but I wish it had more knock-out punches like "A Little Longer."
Four of Five Stars