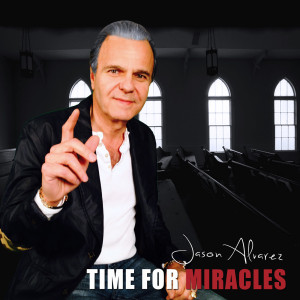 Jason Alvarez
Time for Miracles (release date: March 23, 2015)
www.jamm.org
By Bob Marovich
Ever wonder what happened to the bearded guy who sang alongside Sylvia Robinson on the 1975 proto-disco hit "Shame Shame Shame?" The guy who "got my sun roof down, got my diamond in the back" and implored you in a high-pitched shout to "put on your shaky wig, baby?"
Jason Alvarez became a music star, but with that came an unfortunate addiction to drugs. With the help of his wife, Gale, Alvarez got clean, got saved, signed a record deal with Light Records, but then forsook the music business to become an ordained minister in 1982. Today, with Gale, Alvarez is pastor of the Love of Jesus Family Church in Orange, New Jersey.
He is also back in the record business with a new album, Time for Miracles.
Unlike his high-octane Sylvia & Company persona, the Jason Alvarez we hear on his P&W album is a mellow fellow, lofting praises accompanied by background vocalists and a band that features a prominent acoustic guitar, violin, bass, and more than occasional stinging riffs from electric guitar. With the exception of his falsetto, which he uses to hit some fairly high reaches above the staff, Alvarez sings with a conversational, straightforward technique, not unlike 1960s Jose Feliciano.  On one of the album's two Spanish-language songs, "Como No Creer," Alvarez pulls way back, crooning gently, but with expressive tonality.
Adding to the retro cred, the opening track features a rap from Kory-O of the Sugar Hill Gang ("Rapper's Delight," a proto-rap song).
Electric guitar riffs punctuate the chorus of "Let Thy Kingdom" as bass and drums thump out a hard-hitting beat like a chain gang at work.  Otherwise, the songs are contemplative ("Everlasting Love" borders on the psychedelic) and never quicker than mid-tempo, with hypnotic, mantra-like choruses that encourage singing along as well as losing one's self in the worship experience.
I purchased a 45 rpm copy of Sylvia and Company's "Shame Shame Shame" the minute it came out back in the mid-1970s.  I still have the disc, though for the record, I never owned a shaky wig.
Three of Five Stars
Pick: "Let Thy Kingdom."