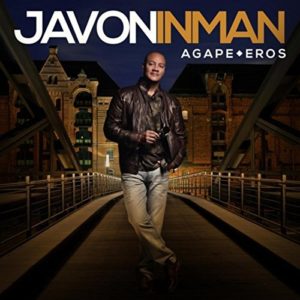 Javon Inman
Agape * Eros
Liberty Music (release date: November 10, 2017)
www.javoninman.com
By Bob Marovich
Javon Inman ladles an ample serving of amor into Agape * Eros, a 40 minute musical journey into the realms of spiritual and human love.
Agape * Eros reminds me of Fred Hammond's 2012 offering God, Love & Romance. If Hammond's release was a tad controversial at the time (truthfully, though, there's been tension between agape and eros in gospel music for a while), combining sacred and human love on one album is all but de rigueur today.
All but one of the opening tracks on Inman's latest release are light melodic praise songs, sweetly sung. The one exception is the extroverted opener, "Te Amo," with its Latin beat, explosions of electronica, and lyrics en Espanol.  The single, "Love Covers," which features Music Society, is a pretty ballad that riffs on 1 Peter 4:8, which is also the premise of "Te Amo:" God's love covers all of our sins, turning "ashes to beauty."
To make sure nobody mistakes his intentions, Inman takes a few minutes halfway through the album to explain his purpose. After distinguishing between agape love (compassionate, sacrificial) and eros love (passionate, romantic), Inman argues that there is no real separation between the two because God, "the author of romance," gives us both.
This introduction leads to a series of songs about love between two people. The quiet storm-y "I Still Love You," features Inman and Michelle Carter-Williams duetting as a couple in love with one another, despite the many annoying things the other does. On "Beautiful Girl," Inman channels Prince by wrapping his passionately fierce falsetto around love lyrics and an interesting melody.
With so many guest vocalists, the CD could be credited to Javon Inman & His Family and Friends.  In addition to the soloists mentioned above, Inman features his children Christian and Isaiah on "Revelation Song," a piece that gives the New Jerusalem passages of Revelation an appropriately anticipatory feeling. Alkeisha Williams assists on "Spectacular Journey," a lovely pop song with sonnet-like lyrics and the most wedding-ready of the lot. Lizette Colon raises the temperature on "Te Amo."
The sound quality of Agape * Eros is top-shelf, thanks to the production talents of Clifford R. Flowers Jr., Allyn Johnson, Lorenzo Johnson, Tone Jonez, and Inman himself; and mixing and mastering courtesy of Studio 51 – Brad Baerwald.
Whether or not you agree with Javon Inman's purpose for the album, his point is well taken: if there's one thing we need more of, it's love—of any kind.
Three of Five Stars
Picks: "Love Covers," "Spectacular Journey"