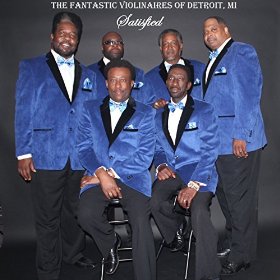 "Satisfied"
The Fantastic Violinaires
Release date: June 30, 2015
Available from digital music stores
Like several professional gospel quartets that organized during or before gospel's golden age, the Fantastic Violinaires are still very much in the soul-saving business.
Recharged with new personnel, the quartet founded in Detroit in 1952 maintains its trademark treble harmonies that inspire quartets even today.  And if "Satisfied" is any indication, the group still has plenty of drive in its system.
The new single, which piles plaudits upon the Most High for graces bestowed, is vintage Violinaires, complete with piercing, punctuating harmonies, call and response, gritty shouts, and a rhythm section straight outta Sam & Dave.