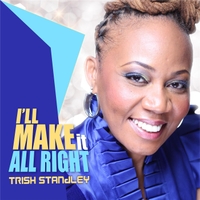 "I'll Make It All Right"
Trish Standley
From the forthcoming Jan's Joy CD No One Else
www.trishstandley.com
Gospel thrush and fashionista Trish Standley covers the Beautiful Zion Missionary Baptist Church Choir of Chicago's 1973 hit, "I'll Make It All Right," with all of the joyous soulful funkiness of the original. The backing group hand claps as Standley delivers the encouraging message, weaving melodic lines in her upper register.
Standley didn't have to do much more than reprise the original to make it musically relevant because it was ahead of its time when it was released more than 40 years ago. "We can't forget where we come from," says Standley.  Her take on this evergreen choir piece is spot on.
The single is downloadable from iTunes and CD Baby, while Standley's forthcoming album, No One Else, will be available this summer.