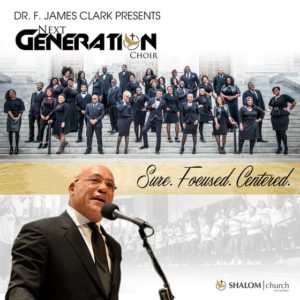 "Blessing Me"
Dr. F. James Clark Presents NextGeneration Choir
From the City of Peace CD Sure. Focused. Centered (2017)
By Bob Marovich
Despite the jaunty piano intro and thunderous singing of the NextGeneration Choir, "Blessing Me" belongs to its fiery lead vocalist, Meaghan Williams-McNeal.
Her feisty shouts and squalls lead the group on this churchy offering of thanksgiving for blessings bestowed. It is one of those songs that seems to anticipate a praise break.  Not surprisingly, Williams-McNeal is pursuing a solo career.
Dr. F. James Clark and the NextGeneration Choir hail from the Shalom Church (City of Peace) of Florissant, Missouri. Their debut album, 2015's Simply Amazing, entered Billboard's Top Gospel Albums chart, garnered a Stellar Award nomination, and enabled the choir to bring back to Florissant four 2016 Rhythm of Gospel Awards, including Church Choir of the Year.
The choir has since received 2018 Stellar Award nominations for New Artist of The Year and Contemporary Choir of the Year, and sang "Blessing Me" at the Stellar Awards Pre-Show.