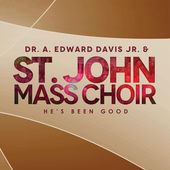 "He's Been Good"
Dr. A. Edward Davis Jr. &
St. John Mass Choir (feat. Omar Kane)
Pure Sound Music Group (release date: September 22, 2015)
www.cdbaby.com/cd/draedwarddavisjr
With "He's Been Good," the St. John Mass Choir echoes the rousing gospel choirs of Chicago's Fellowship M.B., Cosmopolitan Church of Prayer, and Christian Tabernacle churches, and the famed Thompson Community Singers.
A simple, repeated expression of gratitude for blessings bestowed is buoyed by hand-clapping, foot-tapping spiritual enthusiasm—direct, rhythmic, compelling, and timeless—that is as much a trademark of the Chicago gospel choir as marching up the middle aisle in colorful robes.
In 2017, the St. John Missionary Baptist Church, where Dr. A. Edward Davis Jr. has been pastor since Gerald Ford was in the White House, will celebrate a century of ministry in Chicago. Interesting tidbit: St. John's first pastor was Rev. Sylvester S. Harkness, a founding member of Chicago's historic Pilgrim Baptist Church.