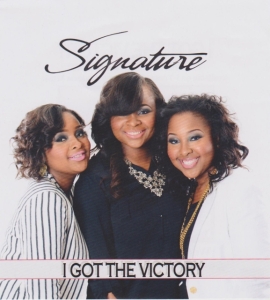 "I Got the Victory"
Signature
From the Birmingham Entertainment/Epic Entity Music Group album
Bigger Than All (2014)
www.WeAreSignatureMusic.com
"I Got the Victory," the latest single from Birmingham, Alabama female trio Signature, pulls its extroverted beats and holy swagger from the musical playbooks of Mary Mary and Trin-i-tee 5:7. Signature sings several triumphal chants of joy for having favor, all prefaced by a dramatic movie-intro flourish.
Comprised of Kristie Robinson, Bonnie Lett, and Michelle Lett, Signature garnered public attention after their single, "Bigger Than All," bubbled under in Billboard. If dissimilar in melody, "Bigger" and "Victory" share a bold vocal sound, the trio firmly planting its musical flag in the gospel soil.