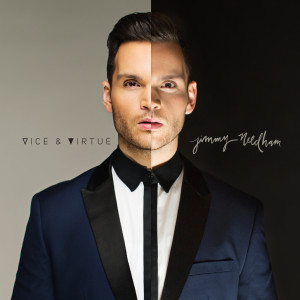 Jimmy Needham
Vice & Virtue
Platinum Pop Records (released May 4, 2015)
www.jimmyneedham.com
By Bob Marovich
Christian artist Jimmy Needham gives us plenty to ponder on Vice & Virtue, his seventh album and first for his own imprint, Platinum Pop Records.
Needham's music is youthful and rhythmic, a playful potpourri of melodic pop and R&B that will put listeners in mind of fellow blue eyed soul children Bryan Popin, Sam Smith, Mayer Hawthorne, Eli "Paperboy" Reed, and Justin Timberlake. "Thank You," a breathless ode of gratitude, has vestiges of the muscle twitching 1980s Minneapolis Sound pioneered by Prince. Another devotional, "Only You," is melodic and best representative of Needham's upbeat style.
Vice & Virtue is not only melodic–it is infused with invention. Polyrhythmic handclaps on "Momma Didn't Raise No Fool" give the song the feel of a children's playground chant. There's a funky turn on Randy Travis's 1987 country smash, "Forever and Ever Amen," and for "The Story (A Spoken Word)," Needham relates the Book of Genesis with a beat poet's virtuosity.
Some of the album's lyrics are straight up praise, while others ruminate on the struggle that has perplexed humankind since the beginning of recorded history: the tension between good and evil, light and darkness. As Needham notes in the bluesy "Jekyll and Hyde," we may put on our Mr. Jekyll face for the public, "but there's no hiding Mr. Hyde."
Not only does the album cover reinforce the lyric dialogue of life's yin and yang—depicting Needham in half darkness, half light—but so does the title track. It is the song Needham calls "the most offensive song I've ever written" because it lays out directly and incisively how every person has "vice in virtue," a fundamental brokenness that must be acknowledged to be defeated.  Even putting Vice before Virtue in the title suggests the power Vice holds on our lives.
Still, the music of Vice & Virtue has sufficient swagger and Needham's vocals sufficient optimism to ensure the listener that good will prevail in the end.
Four of Five Stars
Pick: "Thank You," "Only You."