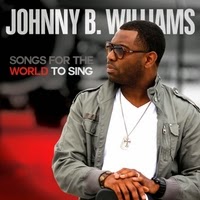 Johnny B. Williams
Songs for the World to Sing
www.salathielrecords.com 
By Bob Marovich for The Black Gospel Blog
I extolled the virtues of Johnny B. Williams in 2009 after listening to his five star album, The Way I Worship.  With his latest CD, Songs for the World to Sing, Williams continues to demonstrate prowess as a singer, songwriter, producer, and multi-instrumentalist.
The album is packed with crisply produced radio-sized selections, all written and performed by Williams, who hails from Jewett, Texas. The songs range in their musical foundation from urban AC and contemporary gospel to tunes with island-flavored rhythms and traditional gospel. Williams is particularly adept at writing melodies, which are catchy without sounding contrived or derivative.
While Williams is comfortable in all gospel genres, he dazzles in the traditional arena. Perhaps neo-traditional would be a more accurate description, as the Swan Silvertones' influenced "Step Out on Water" is fixed in the quartet style—Williams's voice is multi-tracked so he IS the quartet—but its relaxed, finger-popping tempo borrows just as liberally from jazz-inspired contemporary gospel. Williams even lofts falsetto notes a la the Swan's Rev. Claude Jeter. "I'll Make It Through the Storm" is faster paced, a foot-patting gospel of exuberantly-expressed hope and anticipation for better days to come.
Williams drops island beats in "Lord You Been Good to Me" and his current single, "All Over the World," which receives an assist from Christian reggae artist and Salathiel Records label mate Landlord with a cameo appearance by Dr. Myles Monroe.
The lyrics on Songs for the World to Sing vary from uncomplicated plaudits ("The Greatest King") to the testimony vibe of "He's All I Need" to the wooden church wisdom of "God's Got It," where A-list artist Shawn McLemore assists.
Salathiel Records' good fortune to have Johnny B. Williams on its roster is a loss for all those labels who have passed over this excellent artist.
Four of Five Stars
Picks: "I'll Make It Through the Storm," "Step Out on Water."