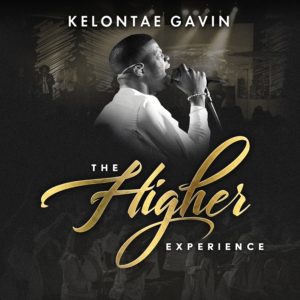 Kelontae Gavin
The Higher Experience
Tyscot Records / Marquis Boone Enterprises
(release date: April 27, 2018)
www.tyscot.com
By Bob Marovich
Now in its fifth decade, Tyscot Records has been repaving its road to success by introducing young artists and groups that mix praise and rhythm, often in an attempt to replicate the live worship experience on compact disc. Anthony Brown and Group TherAPy, Ruth LaOntra, Casey J, and Bri Babineaux are just a few examples.
The latter two have come to Tyscot through its relationship with starmaker Marquis Boone. Boone, referred to by many as the "Berry Gordy of Gospel," finds, grooms, and introduces to the gospel music community fresh-faced artists whose m.o. is the smooth-flowing worship music popular in multicultural churches and especially with younger congregants.
Tyscot's latest release in this mode is The Higher Experience by Kelontae Gavin, another Marquis Boone discovery.  It was recorded live in April 2017 at Fresh Start Church in Duluth, Georgia, outside Atlanta.
If you had to guess Gavin's age by listening to The Higher Experience, you might say 28 or 29 because of his confidence singing and ministering to a live audience. But at the time of the recording, he was only eighteen years old.
Gavin's journey started at age 14, when he rendered the late Reverend Paul Jones's conversational ballad "I Won't Complain" in his school cafeteria. His performance was captured on video by a cafeteria worker and uploaded to YouTube, where it garnered more than one million views. The "cafeteria singer" was invited to reprise his performance on the BET television program Joyful Noise, hosted by Tye Tribbett.
Just as he did for Babineaux, another social media sensation, Boone signed the youngster and, at age eighteen, Gavin recorded The Higher Experience, his first full-length live CD.
While the majority of the project is straight-ahead worship, a string of selections—"It's Working," "He Worked It," and "Praise Break"—is one extended up-tempo workout with a solid backbeat.
"No Ordinary Worship" is no ordinary worship song and is likely to become Gavin's signature song. The most robust piece on the album, it's a deep southern soul-style ballad that benefits greatly from impassioned singing, sassy responses from the BGVs, and an over-the-top sax solo. The P&W ballad "There's No One Like You," with its sing song refrain and VaShawn Mitchell-like melodic flow, runs a close second.
For those unfamiliar with the work that brought Gavin his initial attention, the album includes a new recording of his single, "Higher," and a studio version of the YouTube favorite, "I Won't Complain," that catapulted the singer to fame.
In sum, Kelontae Gavin's The Higher Experience is a portable worship service with everything but the sermon, the collection, and the altar call.
Four of Five Stars
Picks: "No Ordinary Worship," "There's No One Like You"