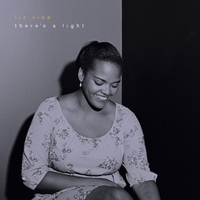 Liz Vice
There's A Light
Deeper Well Records (2014)
http://deeper-well.com/artists/liz-vice/
By Bob Marovich
Liz Vice may not sound like your average gospel singer, but then again, she's not your average gospel singer.
On her CD, There's a Light, the Portland, Oregon-based singer delivers personal inspirational messages to God and to the listener with the raw intensity of Mavis Staples and the soulful confidence of Norah Jones.
The album's ten songs are fresh and inviting, the lyrics poetic, the small band tight and suited to Vice's voice like bacon to eggs, and the trimmed-down arrangements are like long lost tapes straight outta Muscle Shoals. If I didn't know any better, I'd swear the producer was Jeff Tweedy or T-Bone Burnett.
Just about every song is a winner, though for my money, the opening track, "Abide," demonstrates everything that is delicious about Vice. "Pure Religion" is a no-holds-barred take on the guitar evangelist classic, "You Must Have that Pure Religion." The title track rolls along on that Latin blues rhythm that 1960s gospel singers employed every now and then.  Vice shouts so hard into the microphone that it distorts, but I suspect the technique is intentional.
References to Jesus's suffering for our freedom is a recurrent theme on There's a Light, particularly on "Empty Me Out," and the funky "Truly Today."
The middle child of five to a single mother and musical father who was "never a presence" in her life, Vice aspired to be an actress, but realized those opportunities were limited for someone like her who was, as she said, "growing up poor, being brown little brown girl." Although initially stage frightened when it came to singing, Vice received the call to sing the gospel and it has been gospel ever since.
My only question is how did There's A Light get past us? I suspect a lot of gospel radio announcers are unfamiliar with this album, and that's too bad. It's wonderful. Sweet as a peach and just as satisfying.
Five of Five Stars
Picks: "Abide," "Pure Religion."