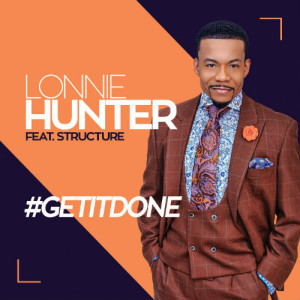 Lonnie Hunter feat. Structure
#GETITDONE
Tyscot Records
www.tyscot.com
Syndicated radio host, choir director, worship pastor, former model, Stellar Award winner, recording artist, CEO, educator, and now clothing line owner, Lonnie Hunter is gospel's Renaissance Man.
Despite his busy schedule with "The Lonnie Hunter Show" and as host of the McDonald's Inspiration Celebration Gospel Tour, Hunter and his choir, Structure, recently rolled out their fifth release, #GETITDONE. The album features P&W lyrics set to creamy choral arrangements, some of which evoke the rich church choir tradition of Hunter's Chicago upbringing.
Paying indirect tribute to Hunter's prior work with Chicago's Voices of St. Mark are selections such as the lush single, "Here In Your Presence," the tuneful and Kirk Franklin-esque antiphonal single "Forever I Will," and a churchy handclapper, "He's Been Good." "What He's Done" blends old school religion with a funky, boisterous beat.
Hunter employs 1980s-style rapping on the hash-tagged title track to encourage listeners to be bold and, with God's help, go after whatever "It" they seek.  He also lends his authoritative vocal delivery, honed well from radio,  to underscore the choir's lyric messages on "Devotion" and "Yes."
Each member of Structure is identified in the album notes, but I wish the the lead singers on each song were listed, also.  Several selections, notably "He's Been Good" and "You're My God," are buoyed by quality lead singers deserving of accolades. Nevertheless, #GETITDONE pays homage to the robust choir sound that has been Lonnie Hunter's bread and butter while supplying the ambient worship lyrics popular with today's gospel music enthusiasts.
By the way, Hunter's new #GETITDONE clothing line is designed to motivate with style. Can I get a running singlet?
Four of Five Stars
Picks: "Forever I Will," "Here In Your Presence."