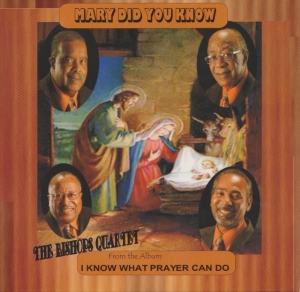 "Mary Did You Know"
The Bishops Quartet
From I Know What Prayer Can Do (2014)
www.thebishopsquartet.net
Mark Lowry and Buddy Greene's "Mary Did You Know" is one of the two or three Christmas songs to come out in recent times with real "legs," or longevity. The Bishops Quartet gives it a contemporary quartet arrangement, and it works. Franky Smith's electric guitar scatters blue notes like pixie dust while Thurman Hargrove Jr. lays down a warm Hammond B3 foundation.
The quartet, comprised of Bishops Alvin Palmer (manager), Thurman Hargrove, James Coleman, and Elder Robert Brice, was organized in Orlando, Florida, and recorded Heaven Is Too Far (For You To Walk) for Sharper Brothers in 2012.