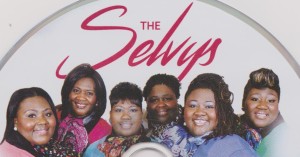 "My Everything"
The Selvys
Lunjeal Music Group/Malaco Music Group
www.malaco.com
With the Showers, foreverJONES, the Jones Family Singers, and the Murrills, you'd think that family gospel groups are the latest music fad.
In truth, family gospel groups have been around since the beginning. The Ward Singers, Brown Sisters, Davis Sisters, Gay Sisters, Ingramettes, Hightower Brothers, and Pilgrim Jubilees are just a few who spring immediately to mind.  There are scores more.
The Selvys of Earle, Arkansas, have been singing the glory down as a professional gospel group for 25 years. Organized by Reverend Jesse Selvy Jr. and Johnnie Selvy, the family group is known for its boisterous, no-holds-barred performance style, a cross between the aforementioned Davis Sisters and a traditional gospel quartet.
The group's new single is the brisk-tempo "My Everything." Written and produced by Allen Carr of the Lunjeal Music Group, the single starts as a conventional praiser but bursts into character during the aerobically-sung vamp.  That's when the Selvys dig deep into their traditional toolkit to drive home the point that God is the sine qua non.