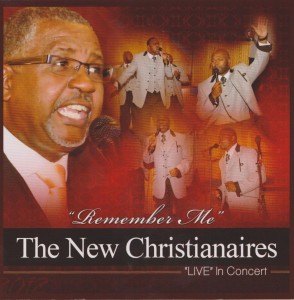 The New Christianaires
"Remember Me" – Live in Concert
Carter Classic Records (2014)
www.thenewchristianaires.com
By Bob Marovich
"Put your sanctified hands together," shouts the announcer who welcomes the New Christianaires to the stage for their live recording, "Remember Me" – Live in Concert. The audience complies. In fact, the audience claps for, and along with, the quartet for much of the album's 68-minute running time.
In 2010, Minister George N. Carter Sr., a member of the original Christianaires of Sontag, Mississippi, which featured Paul and Tyrone Porter, reorganized the group in Florida by adding Apostle Jarmain Hawthorne, Elvis Brumfield Jr., Anthony Seay, and Rev. Clint Walker. In 2014, the New Christianaires took home a Rhythm of Gospel Award for Quartet of the Year.
Where the Christianaires mixed traditional quartet with more modern arrangements popularized by groups such as Commissioned, the New Christianaires pretty much provides straightforward meaty, gritty, soulful performances of original songs with time-honored messages.  Make no mistake: the New Christianaires puts a contemporary luster on traditional quartet, but the old-school style bursts forth on songs such as "One of these Mornings," sung to the melody of "Trouble In My Way;" and "Running to Heaven," which doesn't so much run but lope. Even a quasi-P&W number, "Praise Him," gets a soulful reading.
The loping tempo is fairly consistent throughout the live album—the hard-driving "Jesus" and "I Feel the Spirit" are notable exceptions. The vocal coloring of the lead singers is what make the songs distinctive. George Carter lends his falsetto to "Still Standing," while others, such as Brumfield and Hawthorne, are grittier singers.
The most interesting composition on the album is the finger-popping and prayerful "Trust Me." Hawthorne leads this ballad with passion as he stresses strong faith in God, even when, in our eyes, it seems contradictory to do so. In the southern tradition of simile and word play in song, "Fix It Up Man" likens Jesus to an all-around Mr. Fix It of life's problems.
Executive Producer Carter and co-producer Cecil Green ensure a fine balance between the singers and musicians, who ratchet up the bass and drums to give the songs extra depth.
NOTE: Darrell Jay Jones (936) 222-4006 is handling radio and booking for the New Christianaires.
Four of Five Stars
"Trust Me."