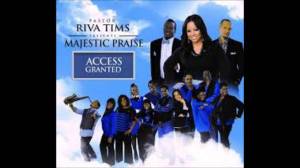 Pastor Riva Tims Presents Majestic Praise
Access Granted
Zion Records (2014)
www.majesticlifechurch.com
By Bob Marovich
Florida Pastor Riva Tims introduces to the general public the music ministry at her Majestic Praise Church in Orlando on the ten-selection Access Granted. It is the first CD on her new Zion Records imprint.
In the album's dramatic introduction, Tims explains the title: "When you are on purpose and on assignment, God says 'access granted.'" The ensemble employs that access to loft vertical praises to God on high.
The songs and arrangements on Access Granted are CCM-tempered praise and worship, something on the order of Shekinah Glory Ministry. The overall feel is earnest and melodic; the choir supports mannerly lead vocalists with smooth and sweet contemporary harmonies. While some of the selections move to a rhythmic beat, such as "Clap Your Hands," "Our God," and the title track (with a cameo by Shirley Murdock), others, like "Incredible God" and "In Awe of You," are balladic in nature.
Tims certainly had her share of struggles during the past decade, and "When It All Falls Apart"—also the title of her book—alludes to her journey from feeling all alone to finding security in God's arms. A smooth jazz shuffle with an island beach-like calm envelops this testimonial.
What's missing from this project is more instances of gospel's trademark electric crackle, that soul-stirring gut punch that makes the pulse quicken. "Greater Is He," an uptempo piece led by Preashea Hillard, comes close but stops short of gospel abandon. The title track and "Work Your Faith," with their contemporary gospel vibe, are the most radio friendly.
Fans of praise choirs will enjoy Access Granted, though I wish the group had incorporated many more instances of the exciting performance techniques that make gospel gospel.
Three of Five Stars
Picks: "Access Granted," "Work Your Faith."