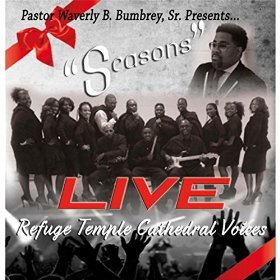 Pastor Waverly B. Bumbrey Sr. Presents
Refuge Temple Cathedral Voices
"Seasons" Live
www.refugetempledetroit.org
By Bob Marovich
One might surmise from its title (and the image of a red bow on the cover) that "Seasons" Live is a Christmas CD. Indeed, the strains of "O Come All Ye Faithful" seep through on a selection called "Bumbrey's Worship," but otherwise this project by a Detroit church choir is an all-seasons release.
Featuring the choir and leadership of Refuge Temple Cathedral of His Glory, notably Supt. Waverly B. Bumbrey Sr., First Lady Patricia Bumbrey, and the Refuge Temple Cathedral Voices, "Seasons" Live is an amalgam of Sunday worship moments recorded with a motivated session band that echo off the walls of the sanctuary.
The sound is largely traditional, from the thunderous a cappella rendering of the spiritual "Good News" to the up-tempo "Sunday Morning Medley" to the praise break that riffs on Malotte's "The Lord's Prayer." Pastor and Lady Bumbrey each offer emotional exhortations to the congregants.  In terms of single selections, the funky mid-tempo praiser "He Reigns" has the most radio potential.
The album is not a big production CD like Brooklyn Tabernacle, Windsor Village, or City of Peace projects. It suits the mid-size Refuge Temple Cathedral of His Glory, a mid-sized and sturdy brick building with a cozy interior at 12227 Findlay in Detroit. Nevertheless, it was enough to earn the ensemble a 2015 Rhythm of Gospel Award for Church Choir of the Year.
"Seasons" Live is the sound of a Pastor, his First Lady, the church choir, and the musicians giving it all they've got with everything they've got.
Four of Five Stars
Pick: "Sunday Morning Medley," "Good News."