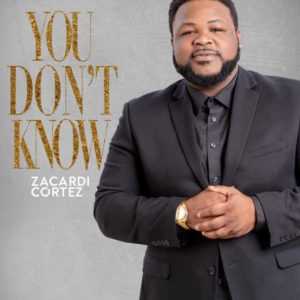 "You Don't Know"
Zacardi Cortez
Black Smoke Music Worldwide (2019)
By Bob Marovich
"You don't know my story," is a frequently uttered church aphorism. "I don't look like what I've been through" is another.
On the appropriately-titled "You Don't Know," the popular gospel singer Zacardi Cortez ("Oh, How I Love You," "1 On 1") offers his own testimony.
His big, rough-as-sandpaper shouting tenor, introduced to a national gospel audience on James Fortune & FIYA's 2007 album The Transformation, is on full display on this deceptively powerful song, as much a recitative of gratitude as a cathartic expression of trials endured in Cortez's 33 years of life. It also serves as an encouraging word to those currently going through their own challenges. The song meanders more than most but ultimately gets its message across.