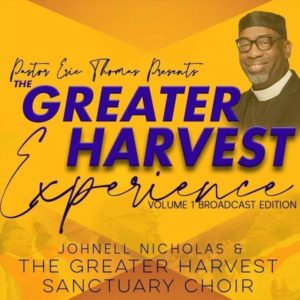 "He Never Failed Me Yet"
Greater Harvest Missionary Baptist Church Sanctuary Choir
From The Greater Harvest Experience, Vol. 1: Broadcast Edition
(release date: October 29, 2019)
https://store.cdbaby.com/cd/johnellnicholasthegreaterharve
By Bob Marovich
For decades, Chicago's Greater Harvest Missionary Baptist Church has had a touch of Pentecostalism in its worship and music. Though the church hasn't recorded in quite some time, its Sanctuary Choir recently released an eight-track live project, two years in the making, called the Greater Harvest Experience. The album captures the Bapticostal feel of the church's worship services.
The album includes "He Never Failed Me Yet," a full-bodied choral workout reminiscent of 1980s mass choirs. It demonstrates Greater Harvest's commitment to traditional gospel. That commitment is not surprising, either, when you consider that its pastor, Pastor Eric Thomas, is a talented and sought-after musician and singer in the traditional mold.
The choir is under the direction of Elder Johnell Nicholas and the CD's executive director is notable church musician Montage Pheloan.