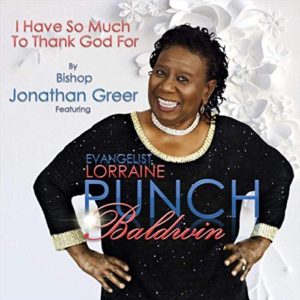 "I Have So Much to Thank God For"
Bishop Jonathan Greer feat. Evangelist Lorraine Punch Baldwin
Dorothy Norwood Music Group
(release date: May 31, 2019)
By Bob Marovich
With Bishop Jonathan Greer doing a song co-written by Dorothy Norwood and featuring fiery shouting and squalling from the Georgia Mass Choir's Lorraine Punch Baldwin, "I Have So Much to Thank God For" is a trifecta of traditional gospel.
Evangelist Baldwin delivers a bushel full of church aphorisms as the choir answers her calls. This strutting "stomp-the-floorboards" gospel song is about thanksgiving for God's abundant blessings, especially those that rain down during our darkest hours. It's recorded live, the best medium in which to capture gospel music.
It's good to hear from Bishop Greer, whose Cathedral of Faith church choir racked up successful releases on Savoy Records in the 1990s. "I Have So Much to Thank God For" is the the debut single from the forthcoming compilation album Pastor Jonathan Greer Embraces the Legends.