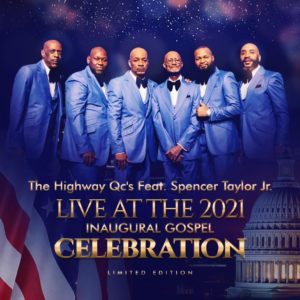 "Saved and Sanctified"
The Highway QCs feat. Spencer Taylor Jr.
From Live at the 2021 Gospel Inaugural Celebration
(release date: March 6, 2021)
By Robert M. Marovich
On the heels of his autobiography, A General Becomes a Legend, Godfather of Quartet Music Spencer Taylor Jr.  joins his fellow Highway QCs deliver an energetic old-school quartet number to a modern arrangement.
The QCs are saved and sanctified, and the harmonies are smooth. The rhythm section is relentless, supporting the men with an insistent and quick quartet strut beat. The call-and-response between lead and quartet turns up the temperature during the QCs' proclaimed "Holy Ghost Party."
The QCs were the senior most troupe on "The 2021 Gospel Inaugural Celebration" telecast, appearing with the likes of Tasha Cobbs Leonard, JJ Hairston, Jonathan McReynolds, Deitrick Haddon, Titus Showers, and Bryan Popin. The virtual event not only celebrated the Inauguration of President Joe Biden and Vice President Kamala Harris, but it was also a fundraiser for the National Baptist Convention's initiative to narrow the healthcare disparity in the African American community.
"Saved and Sanctified" was released on March 6, 2021, on the Godfather's 93rd birthday.