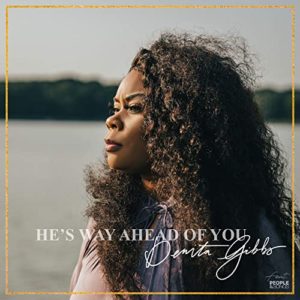 "He's Way Ahead of You"
Denita Gibbs
DGW Entertainment (release date: March 6, 2021)
www.denitagibbs.com
By Robert M. Marovich
Now THIS is the Denita Gibbs I remember from her 2013 CD, Without You.
The Birmingham, Alabama, native's declarative vocals on "He's Way Ahead of You" are locked in from the very start when she sings: "This world is crazy / Spinning out of control / People do the wildest things / And try to rob you of hope."
Having painted the painful scene, Gibbs then reminds the listener to refrain from bitterness because God promised that He'll never leave you nor forsake you. In other words, what is right now is not what will be. The raw passion with which Gibbs sings, and the fact that she co-wrote the song with Jennie Riddle, suggests the lyrics may be at some level autobiographical.
Although 2018's "Keep Holding On" was compelling, it didn't hold a candle to the selections on Without You. This stunning song does. It's a contender for JGM's Single of the Year, and showcases Ms. Gibbs as a singer to watch. Again.