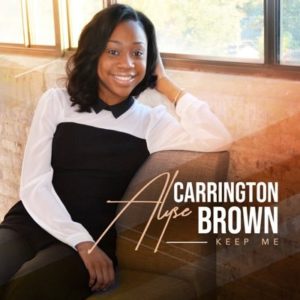 "Keep Me"
Carrington Alyse Brown
Clarkstone Music Group (release date: March 1, 2019)
By Bob Marovich
With thunderous encouragement from a backing choir, seventeen-year-old Carrington Alyse Brown delivers her debut single, "Keep Me," with steadily increasing intensity and passion.
Produced by Jason Clark, executive director of the Tennessee Mass Choir, "Keep Me" is a traditional-flavored song with a message grounded in God's constancy. That's not surprising; she told Xuam Lawson on "Real Gospel with the Xman" that she likes traditional gospel because she is a "churchy girl." Her sound is evocative of another young singer, and one of her favorite vocalists, Jekalyn Carr. Unlike Jekalyn, however, Carrington sounds older than her age suggests.
From Oakland, Tennessee, just outside of Memphis, Brown attends Arlington High School and aspires to attend the University of Memphis to major in nursing. She hopes to release an album, or at least another single, soon.