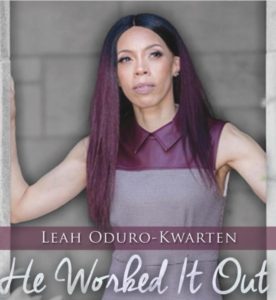 "He Worked It Out"
Leah Oduro-Kwarten
Ok Productions (release date: June 22, 2018)
By Bob Marovich
A lead vocalist with the Illinois Midwest Ecclesiastical Jurisdiction Choir under Dr. Cynthia Nunn, Leah Oduro-Kwarten, better known as Lady Flo, flexes her Chicago chops on this high energy aisle walker.
Lady Flo lends her smoky alto to songwriter Angela Frazier's double-time shout of hallelujah. An effervescent group of background vocalists serves as the choir to Lady Flo's evangelistic declamations. The "work it out" vamp is reminiscent of Cosmopolitan Church of Prayer's "He Can Work It Out," but without the baby needing shoes.
When she is not singing, Lady Flo is the spouse of Pastor Rudy Oduro-Kwarten; first lady of the Grace & Truth Family Life Worship Center in Dolton, Illinois; and owner of Saved By Grace Childcare. Each of the couple's five children is successfully engaged in acting, music, or modeling.