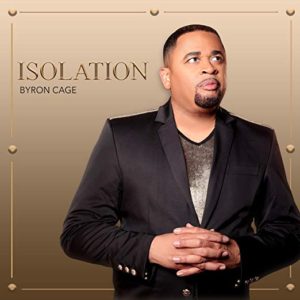 "I Can't Give Up"
Byron Cage
From the AIR / Malaco Music Group CD Isolation
www.malaco.com
By Bob Marovich
It turns out the title of multiple Stellar Awardee Byron Cage's September 2019 album, Isolation, was prophetic.
But on "I Can't Give Up," the album's latest single release, Cage and his background vocalists declare that their present circumstances don't define them. "I'm built to win," Cage enthuses, singing on his own behalf as well as on behalf of the listeners.
The troupe sets pulpit-honed wisdom such as "I've come too far" and "no weapon formed against me shall proper" to an up-tempo beat that gives the sound of victory a churchy vibe. Tambourines clatter and hands clap on the backbeat as Cage moves vocally from melodic to ministerial.
Without realizing it at the time of its recording, "I Can't Give Up" is a buoyant reminder that the isolation caused by COVID-19 is not the end of the story.