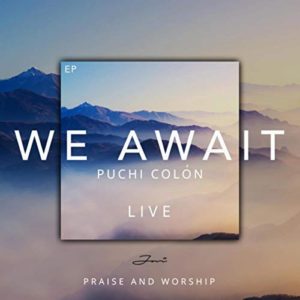 Puchi Colon
We Await (EP)
Jovi Music (release date: September 7, 2018)
www.puchicolon.com
By Bob Marovich
On We Await, Puchi Colon, who JGM has cited as the "Miami Sound Machine of Praise & Worship," steps away from his traditionally zesty, sun-dipped arrangements to present an EP of straightforward P&W.
Throughout the 32-minute live presentation, conventional P&W songs uncomplicated in lyric, melody, and arrangement are tagged with animated, almost unceasing, percussion and energetic call-and-response vocalizing. The presence of brass is unmistakable but the players stick to the typical P&W script, not veering into the Latin riffs that distinguished Colon's previous work.
The high energy of the opening selections give way to the melodic "In Your Presence," which introduces the anticipation of Jesus referenced in the album title. It also presages the cool-down atmosphere of extended introspective prayer that pervades the remainder of the project.
Dove Award-winner LaRue Howard assists on the title track, offering a tender-to-trumpeting vocal that hangs a coda on the message of "In Your Presence:" a universal anticipation of Jesus' entrance into our lives.  In other words, Jesus's arrival does not necessarily have to be an apocalyptic occasion but a here-and-now opportunity when the destination is the heart.
In my opinion, recorded P&W is not only best presented as a live in-service experience, but arguably live is the only way it should be recorded. Nevertheless, part of capturing the live experience is hearing the response to the message and music from the audience-congregation. Here, as in many live recordings, audience-congregation response is difficult to discern. It is not until "We Await" that one encounters explicitly audible reactions off mike (though they could be coming from the choir).
As the songs are sung well, the musicianship is accomplished, and the production is tight, We Await will appeal to fans of P&W. I prefer Colon's salsa worship, however, because of its distinctiveness amidst the growing conformity and uniformity of P&W material.
Three of Five Stars
Picks: "In Your Presence"