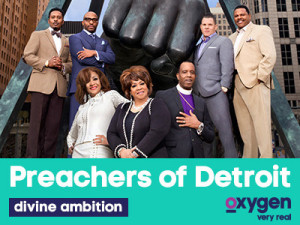 "Preachers of Detroit"
Friday, February 20, 2015 8:00 p.m. ET/PT
Oxygen
By Bob Marovich
Pastor David Bullock is my new hero.
God's gadfly, Bullock evokes the brusque, in-your-face, unfiltered honesty of Deitrick Haddon as he calls out the complacency of prosperity pastors who he feels are more interested in collecting wealth than serving the city's neediest.
An activist at heart, Bullock steals the show on the first episode of Oxygen's new "Preachers of Detroit." This unscripted drama follows the "Preachers of L.A." formula of chronicling the comings and goings of church leaders who represent varying points of view and lifestyles.
While Los Angeles has its share of issues, Detroit is a city on the brink of financial disaster, arguably the worst in American history. Homelessness, unemployment, and resultant poverty and crime have plagued Motown since the American automotive industry went from dominance to decline. It really is a matter of life or death where Detroit is concerned, and the church can either put soldiers in the streets to make a difference or sit in a skybox and watch the city crumble.
The initial episode spends most of its time introducing the cast: Bishop Charles H. Ellis III, Bishop Corletta Vaughn (the first African American female senior bishop), Pastor Tim Alden, Bishop-Elect Clarence Langston, Pastor Don Shelby Jr., Evangelist Dorinda Clark-Cole (soloist extraordinare and member of the famous Clark Sisters), and Bullock. It is only when the group gathers at Ellis's palatial home in the Detroit suburbs for a "pastor pow wow" that the drama kicks in.
Without revealing too much, I will report that the questions the pastors grapple with include sexism in the church, community classism, power, and egotism. The discussions explore the role of ministry: is it to preach to the choir or heal the suffering? Can one drive a Bentley and still meet the needs of the hoi polloi (what's with all the Bentleys in these programs, anyhow?) How can people help Detroit with twenty-first century solutions while living under nineteenth-century church regulations?
That is a lot to grapple with, but for "Preachers of Detroit" to succeed, it will continue these conversations and not get caught up in the extreme largesse or yawn-worthy minutiae emblematic of the reality show genre. One can only hope that, when the dust settles, Detroit is the one that emerges victorious.