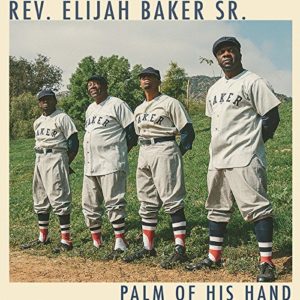 Rev. Elijah Baker Sr.
Palm of His Hand (EP)
Ambitious Records
(release date: September 9, 2017)
By Bob Marovich
Anyone who thinks traditional gospel quartet is dead and gone hasn't heard the Reverend Elijah Baker Sr.'s Palm of His Hand.
The octogenarian Baker, together with background vocalists that sound for all the world like a seasoned quartet, deliver material like the Blind Boys of Alabama, complete with antiphonal singing, tight harmonies, and driving musicianship. There are no synthesized sounds here. Propelling the group is the 1970s era combination of grooved-in electric guitar, electric bass, organ, and drums.
Baker's nephew, singer-songwriter and producer Raphael Saadiq (formerly of the R&B group Tony! Toni! Tone'!) provides background vocals and accompanies on bass. He also produces the title track, a thrilling up-tempo rouser, and joins Baker on lead vocals for "I Never Had It So Good."
Something of a novelty number is "My Body Belongs to God," a mini anatomy lesson as Baker identifies body parts that belong to the Master.  And as for why the team wears baseball jerseys on the cover?  You'll have to ask Rev. Baker.  I'm sure there's a story behind that!
The EP contains quartet staples such as "He's Sweet I Know" and "Right Road," the latter featuring the Sons of the Soul Revivers  on background vocals and Howard Carroll-like guitar riffs from Jubu Smith.
Though recovering from heart surgery, Rev. Baker puts said heart (and soul) into this project, a refreshing throwback to gospel's good old days. It leaves the listener wanting more.
Four of Five Stars
Pick: "Palm of His Hand"