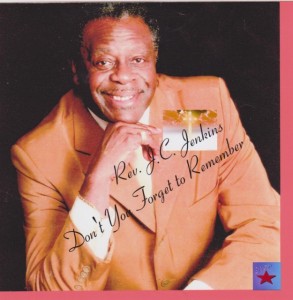 Rev. J. C. Jenkins & the Sounds of Joy
Don't You Forget to Remember
Sharp Records (2015)
www.sharprecordsusa.com
www.reverbnation.com/revjcjenkinsthesoundsofjoy
By Bob Marovich
The Sounds of Joy, featuring the hard-singing lead vocals of Rev. J. C. Jenkins, is a nod to the deep southern soul quartet sound of the 1970s and 1980s.
The major seventh Northern Soul harmonies combined with Jenkins' pulpit-hued raspy lead vocals are most evident on "He's Done It All for Me," the opening track on the group's Sharp Records album, Don't You Forget to Remember. The song's recounting of biblical miracles establishes the premise that if He did it then, He will do it now. Or, as Jenkins declares, "God never done nobody wrong."
Leaving one's troubles at the doorstep of Jesus is also the theme of "Straighten it Out" and of a funky remake of the classic gospel quartet handclapper, "Let Me Lean on You." The title track is decent, although the more than one minute introduction leaves the listener wondering at first whether it will be an instrumental track.
The production quality suffers a bit from background hiss, and the simple, stripped down CD info provides no information on the group other than its national booking contact info and ReverbNation website. What we learn at ReverbNation is that the quartet hails from Gadsden, Alabama, and that 50 percent of the sales of the album will go to the charity Keep a Child Alive.
One thing is for sure: these guys can sing. Don't You Forget to Remember is reminiscent of the 1970s and 1980s DIY projects that gave quartets like the Sounds of Joy an aural business card to promote their live programs and radio appearances.
Three of Five Stars
Pick: "He's Done It All For Me"