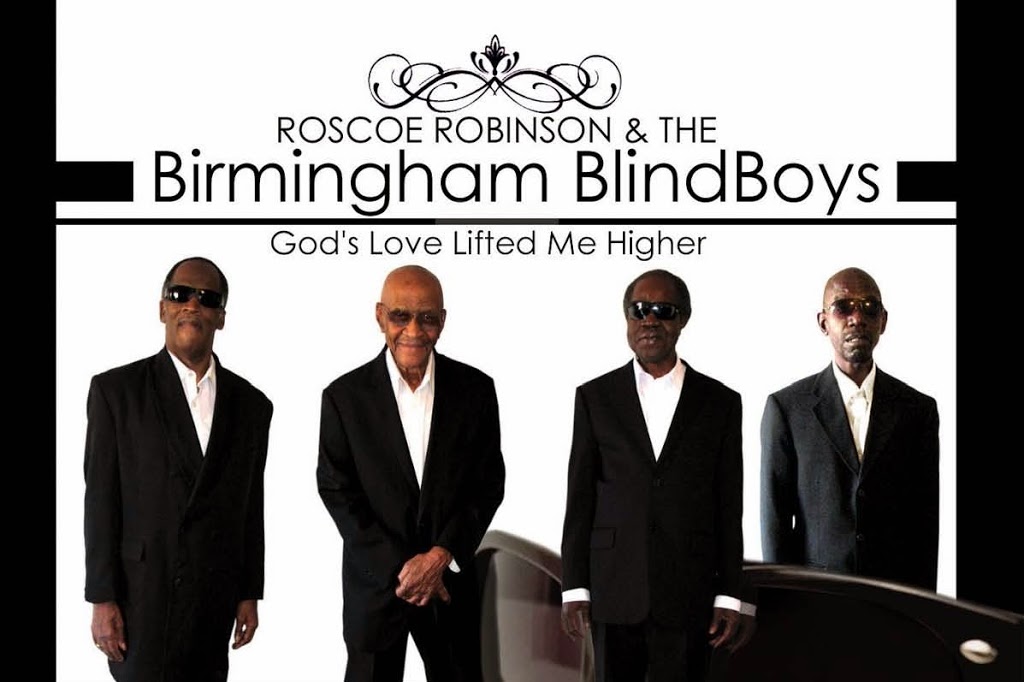 Roscoe Robinson & the Birmingham BlindBoys
God's Love Lifted Me Higher
Mississippi Delta Blues (2014)
Gospel quartet singers are the Energizer Bunnies of music. Decade after decade, through innumerable personnel changes and stylistic revolutions, they keep on going.
Such is the story of veteran gospel quartet lead Roscoe Robinson. Although sighted, the 85-year-old Robinson has sung with just about every blind quartet in existence. He recently organized the Birmingham BlindBoys, named for his Alabama hometown.
In April, the Birmingham BlindBoys—Paul Montgomery, Rev. Julius Love, James Perkins, and Robinson—released their debut album at a
Jackson, Mississippi
gala.
Jackson is the site of Trumpet Records, where Robinson
first recorded with the
Southern Sons Quartette
in the early 1950s.
On God's Love Lifted Me Higher, the Birmingham BlindBoys with Robinson as principal lead lay down smooth harmonies in the mode of modern quartets. The songs are penned by quartet member Paul Montgomery as well as Zanella Robinson, Coy Fulmer, and Carol Cymbala (Brooklyn Tabernacle Choir).
The single and title track of the album is a gospelization of "Higher and Higher," Jackie Wilson's 1967 hit and a perennial favorite of oldies radio. Album selections with notable lyrics are Fulmer's "Blood Money," a stinging reproach of those who kill people for the love of the almighty dollar. The opener, "High on Jesus," proclaims that Jesus is such a "natural high" that the group does not "need no methadone."
Perhaps the most poignant in terms of lyric content is Paul Montgomery's "I Won't Be Blind Over There." It is a heart-tugging ballad that depicts heaven as Beulah Land where the singers will not need a cane or shades. They will not have to put their hands on each other's shoulders to guide them along (those who have seen Blind Boys aggregations enter churches and performance spaces will get the reference).
Traditional quartet enthusiasts will enjoy "Reminiscing with the Blind Boys," Robinson's all too brief retrospective of traveling with the Original Five Blind Boys of Mississippi. His memories are augmented with sung snippets of two Peacock-era classics. This section suggests that the quartet's next album ought to be a cover of some of the Mississippi Blind Boys' 1950s hits.
God's Love Lifted Me Higher has that feeling of venerability that accompanied the Fairfield Four's albums when they returned to the studio after many years.
Pick: "God's Love Lifted Me Higher," "I Won't Be Blind Over There."